Screening. Crushing. Washing.
Tough As The Materials Our Machines Process
Screeners, Crushers, Wash Plants, & Custom Static Plants
Nothing may be tougher in material processing than aggregate raw materials. Sand, topsoil, aggregate, rocks, stones, and even iron ore is unforgiving when trying to clean or manipulate the raw material. R.D. Olson knows crushing, screening, and washing these materials. This American-made manufacturer has been making the strongest aggregate material processing equipment for more than three decades. Whether you need to crush, screen or wash, Simplicity Engineering is the place to go for R.D. Olson equipment.
Simplicity Engineering also offers aggregate products and accessories from MGL, Indeco, Dymax, and Corrosion Engineering. For more information on these products, go to their product pages.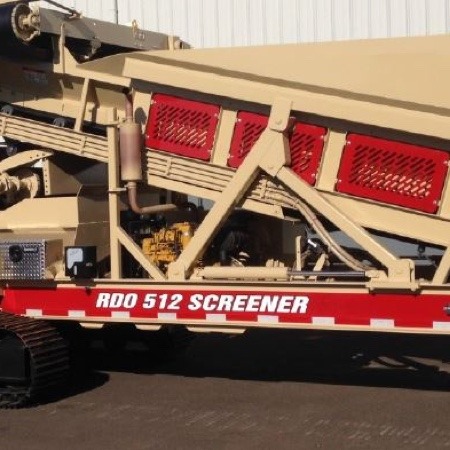 R. D. Olson Portable Screen Plants
Materials change and so do locations and facilities. Owners and operators need screeners that can adapt to all situations and locations. R.D. Olson's screeners are built with rugged, heavy-duty vibratory screens. All RDO's portable screen plants generate three products – 2 screens plus the overs. These hydraulic workhorses feature a ⅝ throw and self-cleaning balldecks, other options include aux. hydraulics, grizzlies, extra axles, and multiple hydraulic jacking legs. Check out the 512 or 616 screeners in either wheeled or tracked models by logging on to Vibratory Screeners & Screen | Rock, Concrete, Gravel Screeners | Simplicity Engineering (simplicityengineeringne.com)
R.D. OlsoN Wash Plants
Especially valuable to quarry operations, wash plants help clean and provide the best material for output which means creating a more desirable finished product for reuse or sale. R.D. Olson wash plants are built to last with heavy-duty steel components and made in the U.S.A. They come equipped with spray bars on each deck and come with rugged rubber tires for mobility. Options include a double sand screw for the 5 x 16, 6 x 16, and 6 x 20 models. There's more than meets the eye with all the R.D. Olson wash plants so for more information go to https://www.rdolsonmfg.com/wash-plants.
R.D. Olson Customized Static Plants
Larger operations need machines with large capacities and that can run at will. R.D. Olson specializes in custom static units that are designed to sit stationary in one place. They can be for crushing or screening and custom-built to the specific materials or site locations. One advantage to this customization is that a crusher can be contained in the system. The American-made units are easily tailored to the needs of any size operation. To learn how easy it is to get a customized processing operation with these static crushers/screener machines log onto https://www.rdolsonmfg.com.