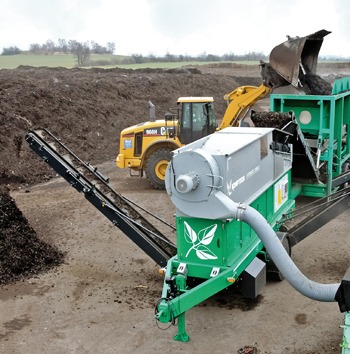 We can explain our products,
But We want you to see for yourself
Anyone can put specifications and photographs on their website or in a product brochure. That won't do our products and brand partners justice. Everyone has a different use and yardstick for what they want heavy equipment to do and produce. That's why we want anyone interested in a machine or accessory to see realistic videos from the field in use. Whether the job calls for a shredder, screener, separator, excavator, windrow turner, or aggregate accessory, we have produced dozens of videos showing the operation of machines and feature some actual owners who talk about the machine and Simplicity. Don't see what you are interested here? Then check out our YouTube channel for more. Simplicity. It's in our name and how we do business.
This shredder is wood's public enemy #1
The Crambo is one of the best machines there is for shredding all types of wood and green waste. Two slow-running drums with shredding teeth minimize fine particle and noise/dust emissions, and resist contraries. The Crambo enables easy adjustment of the output particle size, by simply exchanging the screen basket to instantly change the particle size. With load-dependent rotation speed regulation, the hydraulic drum drive ensures that full advantage is taken of the engine output.
Simplicity Equipment & Service Delivers
Simplicity Equipment & Service is the premier dealer for material processing equipment, service, and parts in New England, New York, and New Jersey. Heavy material handling equipment of any size is all we do. Whether you need new or pre-owned heavy machinery sales, rental units, service, and parts, this is the one place you can count on. Since 1997, Simplicity Engineering has served all of New England including New York and New Jersey by offering the top name brands in the business
Whether it is shredders, separators, screeners, stackers, or turners, we service all makes and models. We have a full staff of heavy equipment specialists and a fleet of heavy-duty service trucks. And when it comes to parts, no one finds and delivers parts better for any type of processing equipment than Simplicity Equipment & Service.
Meet Your Best Friend: Matt
Mee Matt. He could be your best friend when your machines goes down. We cover everything from the tires to the teeth. Besides years of practical experience, we regularly attend classes and workshops to stay current with most makes and models. Simplicity's facilities are equipped with state-of-the-art diagnostic tools, so we can identify and correct problems quickly and cost-effectively to get you up and running FAST! To learn more, go to https://simplicityengineeringne.com/service/
Komptech Ballistor separator
For industries requiring continuous operation, the Komptech Ballistor waste and recyclable separator combines ballistic separation and screening in one operation. Its high-performance design allows it to be configured to separate materials into three or four fractions and has several options. Learn more at https://simplicityengineeringne.com/products/separators/
Indeco Breakers. A Too For Every Job
With a long history of technology firsts that are now accepted as industry standards; including the world's largest hydraulic breaker, the HP25000, Indeco North America is the 'Go-To" source for the toughest, most reliable equipment used in the construction, demolition, aggregate, mining and scrap industries. Indeco is the choice for landclearing, recycling, material processing and demolition. Their core lines include hydraulic breakers, compactors, mulching heads, multi grabs, pedestal booms, pulverizers, and steel sheers. For more information, go to www.indeco-breakers.com.
R.D. Olson 6 X 16 Screen Plant
Materials change and so do locations and facilities. Owners and operators need screeners that can adapt to all situations and locations. R.D. Olson's screeners are built with rugged, heavy-duty vibratory screens. All RDO's portable screen plants generate three products – 2 screens plus the overs. These hydraulic workhorses feature a ⅝ throw and self-cleaning balldecks, other options include aux. hydraulics, grizzlies, extra axles, and multiple hydraulic jacking legs. 616 screeners in either wheeled or tracked models at https://simplicityengineeringne.com/products/aggregate-products/
Easy drum change for Komptech Primus
Check out how easy it is to change a drum on the Komptech Primus. Takes only minutes instead of hours. The Komptech Primus is a heavy-duty, mobile trommel screen machine built for the small to medium-sized compost operation that excels in reliable screening performance and operating efficiency. The Primus features a large, 4 yd3 steep side walled hopper to help prevent material bridging, and throughput capacity of up to 90 yd3/hr. The easily accessible and simple to change screen drum system features 175 ft2 of effective screening area. The Primus can also be equipped with a grizzly or wind sifter option depending on your needs.
R.D. Olson Wash plants
Especially valuable to quarry operations, wash plants help clean and provide the best material for output which means creating a more desirable finished product for reuse or sale. R.D. Olson wash plants are built to last with heavy-duty steel components and made in the U.S.A. They come equipped with spray bars on each deck and come with rugged rubber tires for mobility. Options include a double sand screw for the 5 x 16, 6 x 16, and 6 x 20 models. There's more than meets the eye with all the R.D. Olson wash plants so for more information go to https://www.rdolsonmfg.com/wash-plants.
Komptech's Multistar XL3 – A Star
The Komptech Multistar XL3 is a 3- or 2-fraction screening machine available in track or wheeled configurations and built for medium and large volume producers of mulch, soil and compost. Grind directly into the XL3's large 9.2 yd3 hopper without blockage, enabling up to 400 yd3/hr of throughput and producing either "double" or "triple" grind finished product. The XL3 offers unmatched flexibility with simple adjustability of the screen cut, quick switch between 3 or 2 fractions with the touch of a button, and the ability to power stacking conveyors directly from the machine.
Komptech's SHredders
Today's material processing industry has the tough task of being more fuel-efficient while helping operators maximize their operations by saving physical space. Shredding materials is critical to reducing volume per ton for landfills, railcars, and trucks. Waste and processing facilities simply require universal shredders that take on just about anything. Komptech's Terminator and Crambo models combine aggressive feed loads with heavy-duty reversing shafts and fuel efficiency to annihilate the toughest materials to deliver the optimum correct sizing. Besides these advantages, safety and service access are still the best in the industry.
2019 Terminator with Ryan Cullen
There is a reason this beast is named "The Terminator." The Terminator is a low-speed, high-torque single-shaft industrial shredder designed to process nearly all types of difficult waste, including heavy C&D debris, bulky waste, white goods, mattresses, tires, and municipal solid waste (MSW). This heavy-duty, mobile shredding machine is powered by a modern CAT® Tier 4 Final engine delivering up to 600 HP to the drum. We hear from Ryan Cullen who explains our 2019 Terminator and what it can do for your business.
It's Simple. It's In Our Name & How We Do Business!
Simplicity Equipment & Service is the premier dealer of material processing equipment and solutions in the Northeast. We service a wide range of industries including waste and recycling, land clearing, biomass energy, composting, and material suppliers. If you need help in material handling, give us a call or drop us an email. Whether you need a new, pre-owned, rental machine, 24/7 service, or parts, your first call should be to a partner that has more than 3 decades of experience.
R. D. Olson 616 Screener
Heavy rock, concrete, and sand are no match for the R. D. Olson 616 screen. Its power comes from a Caterpillar Diesel Engine with 74hp (NON-DEF) on the two-deck units. Available in two- or three-deck models and in track or wheeled models, the 616 features an aggressive ⅝ throw, self-cleaning balldeck, and is Grizzly ready with a 15-cubic yard hopper. It's called the 616 due to the 6 x 16 x 3D easy-access step deck. Options include either two or four hydraulic legs, six hydraulics, and a single shaft soil shredder. Andrew Duncan helps explain why you need a 616 Screener for your construction needs.
The Komptech Multistar XL3 Is Truly A Star!
The Komptech Multistar XL3 is a 3- or 2-fraction screening machine available in track or wheeled configurations and built for medium and large-volume producers of mulch. The Mulistar XL3 is a high-throughput 3- or 2-fraction star screen for medium- and large-volume producers of mulch, soil, and compost. that is powered by a Perkins Gen Set Tier 4 Final/85 horsepower. Depending on the material, the XL3 maximum throughput: is 400 yd3/hr (~300m3/hr). Simplicity's Andrew Duncan helps explain how the Multistar XL3 keeps your worksite under control.
2021 Crambo Turns Wood Into Profit
Got wood? The Crambo turns it into money. Designed specifically for wood processing, this low-speed dual-shaft delivers high-throughput grinding of the toughest or organic waste while blending and mixing a smooth output. This beast is specifically designed to withstand heavy contamination but is low-maintenance, stingy on fuel consumption, and operating costs. Check out this 2022 Crambo that gobbles up all types of wood. Look how palettes of all conditions and sizes crumble into useable material for sale.
MIKE MAGLIERI, OPS MANAGER
We can say whatever we want but we really value what our customers say because they are integral to our mission. We have been around since 1997 and one reason is the loyalty of our customers. Here's one example. Mike Maglieri of Quickcrete in Maine about his long relationship with R. D. Olson